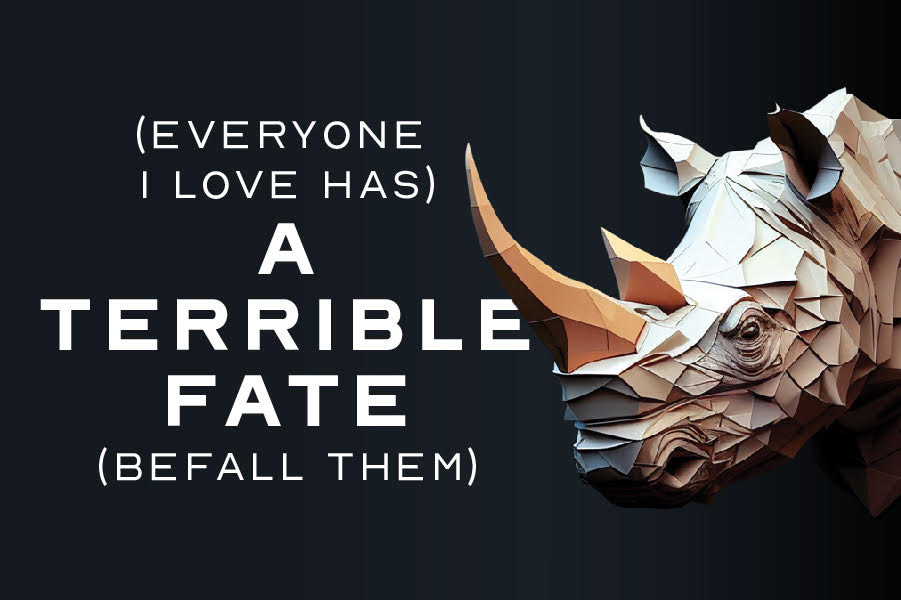 Our current playwright in resident, Cliff Cardinal has been with us for almost a decade, and he is a valued member of the company. Cardinal was engaged (as a first nations person) to create a land acknowledgement statement:
Hi, I'm Cliff Cardinal, writer in residence, Video Cabaret. This play is situated in the land of the imagination created by Deanne and Michael. This room and this show are alive with their legacy. Thank you for honouring this ground.
We produced his semi-autobiographical play, Too Good to Be True in 2018, and seeded his land acknowledgement play, As You Like it in 2020. Cardinal is finishing up a new play we commissioned called (Everyone I Love Has) A Terrible Fate (Befall Them). 
VideoCabaret in association with Crow's Theatre presents,
(EVERYONE I LOVE HAS) A TERRIBLE FATE (BEFALL THEM)
Written and performed by Cliff Cardinal & directed by Karin Randoja
Produced by Aaron Rothermund & Layne Coleman
Cliff Cardinal and Karin Randoja are back collaborating for a third time on (EVERYONE I LOVE HAS) A TERRIBLE FATE (BEFALL THEM) which reveals a dark comedy about life, death, and what terribleness lives in between. Cardinal deftly performs multiple characters in this provocative and profound one-man-show, with Randoja's darkly humorous twist on what it means to be human.
Cliff Cardinal is an associate artist at VideoCabaret, where he premiered Too Good to Be True, "a captivating tale that solidifies Cardinal as one of the most talented and intriguing writers in the country" (NOW Magazine). He was named a Canadian Cultural Icon in 2022 (The Globe and Mail) for William Shakespeare's As You Like It, A Radical Retelling by Cliff Cardinal. The show was produced by Crow's Theatre and was recently presented by Mirvish Productions as The Land Acknowledgement, or As You Like It at the CAA Theatre.
For over 30 years Karin Randoja has specialized in creating and directing original devised performances, including A Field Guide to Fevers and Curses, Huff, Cliff Cardinal's CBC Special, This is the Point, Gertrude and Alice, Jacinto, Brotherhood: The Hiphopera, Breakfast, and Clean Irene and Dirty Maxine. Randoja is a celebrated founding member of Primus Theatre and The Independent Aunties.
(EVERYONE I LOVE HAS) A TERRIBLE FATE (BEFALL THEM) will be performed at VideoCabaret in the Deanne Taylor Theatre. Located at 10 Busy Street, Toronto, Ontario.